Tips to avoid on campus crime when going back to college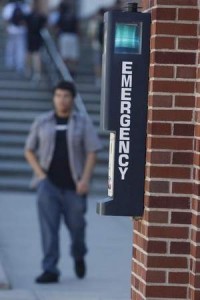 It is the back to school season and in our area we are surrounded with colleges like Swarthmore, Villanova and Widener. You may be looking forward to seeing your old friends from the previous years or making some brand new friends. Whether you are a incoming freshman or a senior, there are a few things that you need to do to ensure your safety this school year.
Get to Know Your Surroundings
If you are unfamiliar with the campus, walk around during the day to get to know the area. Even if you don't have any classes in a certain building, you still want to know where everything is. Knowing the area keeps you from being lost and if you do have an emergency, you will be able to communicate with campus security where you are.
Travel in Groups
Whether day or night, don't make it a habit to walk alone. Attacks are more likely to happen to students who habitually travel alone. If you don't have someone in your dorm that has classes with you, don't be shy about asking a classmate to walk with you. Make sure that your roommate knows where you are going. Don't just go it alone because you think that nothing bad can happen to you.
Party Responsibly
Many students look forward to college because of the parties. There is nothing wrong with having fun but you have to do it responsibly. Don't go to parties alone with people that you don't know. Do not drink unless you have a person with you that will not be drinking. If you are old enough to drink, do not accept drinks from strangers that are in an open container. You can always bring your own. Unfortunately, there are people that will take advantage of you.
Dating
Whether you are a male or female, let someone know when you are going out on a date. Take a picture of your date and send it to a friend or roommate. Always insist on the first few dates being in public places with a lot of other people around. Have your friends text or call you every couple of hours so that they will know that you are okay. Above all things, get as much information about the person you are going to go on a date with before hand. You should not be going on a date with a person if you don't know his or her last name, phone number, and address, in the very least.  Should the inevitable happen, be sure to report the crime and get immediate help from a criminal defense attorney.
College years are often considered the best years of your life. Be safe and enjoy.