Traffic Violations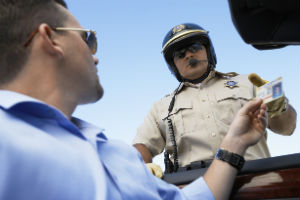 Pennsylvania, like most states, has a point system along with a suspension of driver's license for those drivers who violate traffic laws in the state. Certain violations or an accumulation of points can cause a suspension of your license.
Point System
Title 75 Section 1535 lays out the points given for particular violations. Most violations of the traffic laws carry 3 points per violation. The points are cumulative so if you violate two sections of the law you will end up with 6 points. There are some 4 points violations such as leaving the scene of an accident with property damage only. The only 5 point violations are passing a school bus with flashing red lights or exceeding the speed limit by 26 mph or more.
Points for speeding are graded depending on how fast you were going when stopped by the police. The points are as follows if you exceed the speed limit by:
6-10 mph 2 points
11-15 mph 3 points
16-25 mph 4 points
26-31 mph 5 points
31 and over mph 5 points plus a hearing
Comment: Many times a violation with points can not only affect your driver's license but also cause your insurance rates to rise. If this is a concern (and it usually is) a lawyer can often negotiate with the police office to drop the charge to one with no points (or at least fewer). For instance, if caught speeding it is possible to enter a plea to that offense but only for 5 miles over the speed limit. While you will still have to pay the fine you will not receive any points. Going through a red light can be downgraded to a section involving no points.
Points can be removed from your record. Three points will be removed for every twelve months that you are violation free. If you can reduce you record to zero points and maintain that for 12 months, the next points will be considered an initial accumulation of points.
When you accumulate six points you must take a driver's education course. Successful completion of the course subtracts two points from you record. If you fail to take the course your license will be suspended for 60 days. A second accumulation of 6 points can mean a license suspension of 15 days plus taking the driver's course again. A third accumulation of six points will bring a suspension for 30 days.
License Suspension

Three month suspension:
Your license will be suspended for three months for violations of having alcohol in your system if you are a minor or failing to properly register your vehicle.
Six month suspension:
You license can be suspended for six months for the following:
Racing on the highway
Careless driving
Driving without lights to avoid detection
Reckless driving
Leaving the scene of an accident with damage to property or vehicle
First conviction of a drug offense
One year suspension:
Using a car while committing a felony
Driving Under the Influence
Leaving the scene of an accident with personal injury
False information in registration of vehicles
Fleeing from a police officer
Second offense of a violation of drug laws
Second offense of minor violating alcohol laws
Driving Under Suspension
Driving Under DUI Suspension
It is also important to remember that failing to pay a ticket for a moving violation (non parking) will suspend your license until the ticket is paid.
Just Remember…
Comment: It is important to remember that your suspension does not start until you send you license into PennDot. You license suspension will start 30 days after receiving notification from PennDot but the time limit starts with it receiving your license.
The information presented is not legal advice, and your use of it does not create an attorney-client relationship. No recipient should act on the basis of any content included in the site without seeking the appropriate legal advice from counsel. Lawrence R. Dworkin, Esq. expressly disclaims all liability in respect to actions taken based on any content of this site. Because every case is different, any prior results described on this web site do not guarantee or suggest a similar outcome.